Steve Smith MW New Zealand Winegrowers Fellow - for services to NZW, WINZ and other initiatives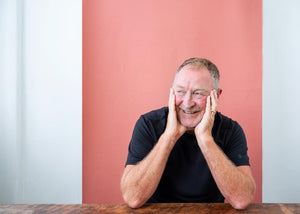 Wild Billy McRae was known for bootlegged whiskey out of Southland, with Hokonui Moonshine said to compare with Scotland's best. Fast forward a century or so, and one of Billy's descendants is known for fine wines instead, with a 40-year legacy in New Zealand's wine industry. "I like to be challenged by things," says Steve Smith MW, perhaps sharing a trait with his notorious ancestor. "My natural instinct is not to do things the way everyone else has done them."
Steve was the first viticulturist in the world to become a Master of Wine, co-founded and steered Craggy Range for 16 years, and launched Smith & Sheth with United States billionaire and environmental philanthropist Brian Sheth five years ago.
A year later, the duo – passionate about forging extraordinary wines from extraordinary places – purchased the iconic Pyramid Valley followed by Lowburn Ferry.
"As I was finishing up at Craggy I thought about 'what is it I want to feel like as an 80 year old?'" Steve says. "I decided that having the opportunity to be a curator of properties like Pyramid Valley and Lowburn with Brian, and to create something pretty special - truly focused on the fine wine space in New Zealand - really drives me." It's a realm that deserves far more respect, "and I spent my career trying to do that".
That career has been punctuated by the influence of mentors, starting when he was 17 years old, and shelved dreams of being an architect - too costly for the boy from rural Canterbury - instead doing an internship at the Ruakura Research Centre in Hamilton, which had just started looking at phylloxera in grapevines.
While there, he met Richard Smart, who'd been appointed as Viticultural Research Scientist for New Zealand and was "a very influential person for me", he says. After doing a New Zealand Certificate of Science through Waikato Polytechnic and postgraduate studies in horticultural experimentation at Lincoln University, Steve became Richard's Viticultural Technical Officer.
Steve worked "side by side" with his mentor for nearly eight years. "It was like doing a PhD every day."
The work they did in the 1980s came from Richard's desire to upgrade the New Zealand vineyard, says Steve. "I was lucky enough to be the one to try and make it work, because he was the mad scientist. There's a little bit of the mad scientist in me too, so I really embraced that."
After a six month stint in Napa, Steve decided it was time to take a commercial route. Becoming Villa Maria's viticulturist while George Fistonich was grappling with receivership turned out to be a brilliant choice. "He was another incredibly influential person," says Steve. "If you ever want to learn about business, go into an entrepreneurial business like George's, with zero money." If you were energetic and interested, you could get involved in all facets of the business, says Steve, who dipped into the winemaking side, and also learned about marketing and brand.
If working with Richard Smart was akin to a viticulture PhD, then time with Steve Bridges, who was rebranding Villa Maria, was like a marketing one, while George gave him the equivalent of an MBA, says Steve. "It was a really influential 10 years of my life."
In 1995 Steve started work towards a Master of Wine, having decided "the entrepreneurial side of wine was my gig". The next year he added MW to his name and found doors opening as a result.
"The wine world was ready to hear of a different view… through the lens of a viticulturist who loves marketing and wines."
If working with a cash-strapped Villa Maria held plenty of challenges and
opportunities, so did working with Terry Peabody, who called on Steve to partner in the establishment of Craggy Range in 1998.
"That was a hell of a change. When you worked for George and had no money you had to think seriously creatively because we had no other option. With the Peabody family, the tricky thing was having a clear picture of what they wanted to do," he says. "It was challenging in a different way."
The vision was to create one of the world's great wine estates within a generation, and to have wines served in the great restaurants of the world, says Steve, who was given a lot of freedom to forge the business and brand platform for Craggy Range, as a producer of single vineyard wines from the Gimblett Gravels and Te Muna Road in Martinborough.
"It was a really significant investment and it was the first business I had ever run, which used to scare the hell out of me from time to time." It was a "fantastic" 16 years, he says. "We created, I think, something pretty special."
But at the end of it, as Steve stepped back and the family took greater ownership of the company, he thought he was likely done with the wine industry. He became Chancellor of Lincoln University in 2017, helped establish Fit for a Better World with the Aotearoa New Zealand Agriculture, Food and Fibres Sector, and was Chair of the Sustainable Food and Fibres Future Fund.
Being outside of wine made him realise how special the industry was. "Special because it captures everything I love."
"I also realised I had built a whole lot of relationships," he says, talking of growers and winemakers he's known for decades, sommeliers he's forged friendships with, and partners in the United Kingdom. "The wine industry is full of extremely good people."
Over several glasses of wine, he and Brian Sheth decided to build a partnership - Smith & Sheth - to recreate the British wine merchant model for New Zealand wine. That's allowed Steve to tap into relationships he's cherished throughout his career, and revisit "wonderful old properties" he respects, like the vineyard of Chris Howell, which he helped plant when he was at Villa Maria. "Now he has nearly 30-year-old Chardonnay vines and 25-year-old Cabernet Franc vines."
The duo then bought Pyramid Valley in North Canterbury and Lowburn Ferry in Central Otago, and developed their Omahu vineyard in the Gimblett Gravels for Smith & Sheth, with all three brands under umbrella company Aotearoa New Zealand Fine Wine Estates (AONZ).
Steve describes Pyramid Valley as a "mesmerising property from an aesthetic point of view", that's even more exciting when seen through a viticulture and wine lens. "There's something there and you see it in the wines." The Lowburn and Omahu vineyards are equally as special, he says, describing the work done at both as edgy and highly detailed.
"These three properties are, to my eye, amongst the world's finest Chardonnay, Pinot Noir and Syrah estates. Our vision is to capture that potential, producing fine wines through the lens of nature that can only come from these places, and have fun doing it. And that right there is my wine purpose for the rest of my life."
This story was first published in New Zealand Winegrower magazine issue 131 and is republished with permission.